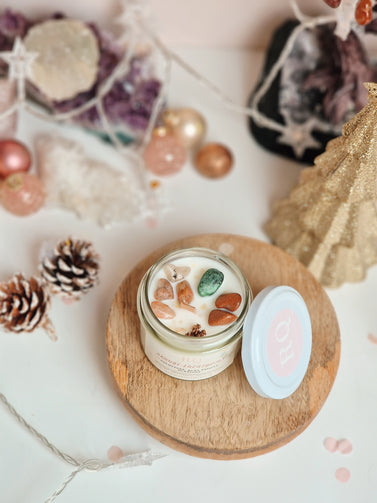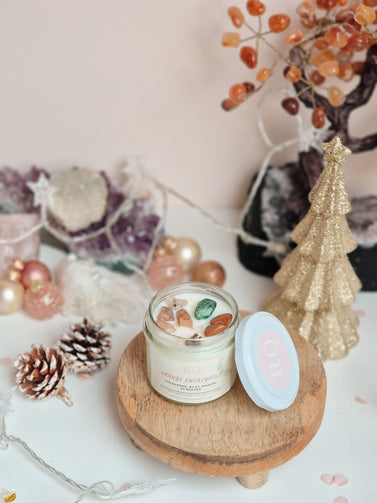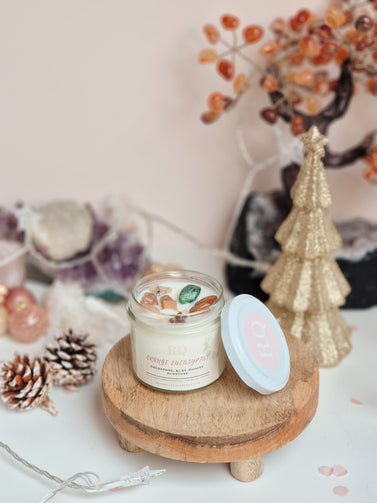 Orange & Eucalyptus scented Crystal candle - Winter exclusive
Orange & Eucalyptus scented Crystal candle - Winter exclusive
Regular price

Sale price

$20.00 USD
Tax included.
Shipping
calculated at checkout.
Introducing the "Orange & Eucalyptus" Winter Exclusive Crystal Candle – a refreshing and invigorating winter delight that brings the essence of citrus and the crispness of eucalyptus into your space. This candle, with its untreated wood wick and a generous 20-hour burn time, holds 100mL of aromatic goodness.
Scented with the vibrant combination of zesty orange and invigorating eucalyptus, the "Orange & Eucalyptus" Crystal Candle fills your surroundings with a burst of energy and a breath of fresh air. Light it up to create a revitalizing atmosphere that refreshes your senses and uplifts your spirits.
Topping this candle are three carefully selected crystals, each chosen for its unique energies and aesthetic charm:
Goldstone: Known for its sparkly appearance and its ability to bring light into dark situations, goldstone adds a touch of magic to your space.

Ruby Zoisite: A stone of growth and vitality, ruby zoisite infuses your surroundings with a harmonious and invigorating energy.

Sunstone: Celebrated for its association with joy and abundance, sunstone invites warmth and positivity into your surroundings.
The "Orange & Eucalyptus" Crystal Candle, with its wood wick, adds a rustic and earthy element to your decor. Its compact size and exquisite crystal adornments make it a charming centerpiece that radiates both elegance and natural charm.
Whether you're a crystal enthusiast, a candle connoisseur, or someone who revels in the invigorating scents of winter, the "Orange & Eucalyptus" Crystal Candle promises an extraordinary sensory journey. Immerse yourself in the refreshing scent, bask in the warm and crackling ambiance of the wood wick, and let the energies of these beautiful crystals envelop you in a cocoon of renewal, positivity, and inner growth.
Content:
100mL (about 20 hours burn time)
Couldn't load pickup availability