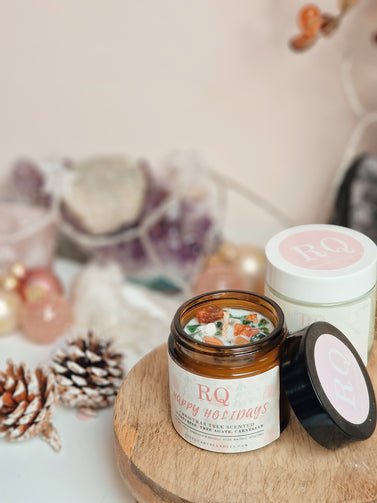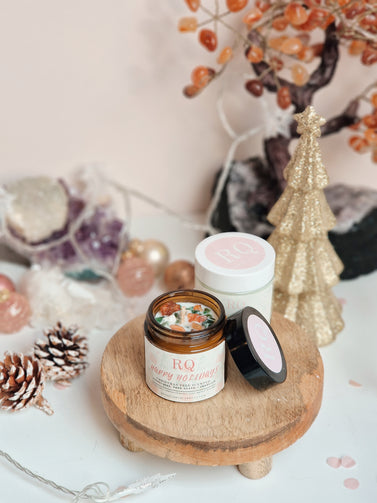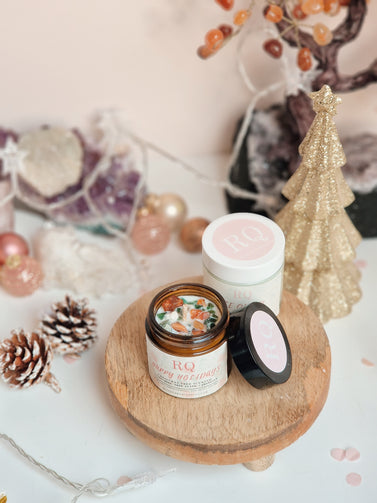 Happy Holidays - Winter exclusive travel candle - Xmas tree scented
Happy Holidays - Winter exclusive travel candle - Xmas tree scented
Regular price

Sale price

$13.00 USD
Tax included.
Shipping
calculated at checkout.
Introducing the "Happy Holidays" Winter Exclusive Travel Candle – a miniature delight that encapsulates the spirit of the holiday season and makes the perfect companion for your winter adventures. Crafted with love and care, this travel candle offers approximately 12-15 hours of burn time, providing you with a warm and inviting ambiance wherever you go.
Scented with the enchanting fragrance of freshly cut Christmas Trees, our "Happy Holidays" Travel Candle brings the joy and warmth of the holidays to your travels or homely evenings. Whether you're journeying to snowy destinations or simply creating a cozy atmosphere at home, this candle is your ideal festive companion.
Topping this travel-sized wonder are three carefully chosen crystals, each chosen for its unique energies and aesthetic appeal:
Carnelian: Known for its vitality and motivation-boosting qualities, carnelian infuses your space with a vibrant, uplifting energy.

Aventurine: Celebrated for promoting abundance and good fortune, aventurine invites prosperity and positivity into your surroundings.

Tree Agate: With its grounding and nurturing properties, tree agate establishes a connection with nature and imparts a sense of balance and tranquility.
The "Happy Holidays" Winter Exclusive Travel Candle is more than just a candle; it's a pocket-sized sanctuary that adds a touch of holiday magic to your journeys. Its convenient size and exquisite crystal embellishments make it a cherished companion, igniting memories and spreading cheer wherever it goes.
Whether you're a seasoned traveler, a holiday enthusiast, or someone who appreciates the charm of the season, the "Happy Holidays" Travel Candle promises to infuse your moments with festive delight. Immerse yourself in the nostalgia of the holidays, create a comforting atmosphere, and let the energies of these beautiful crystals bring you joy and serenity, no matter where your travels take you.
Content:
60mL (12-15 hours burn time)
Couldn't load pickup availability