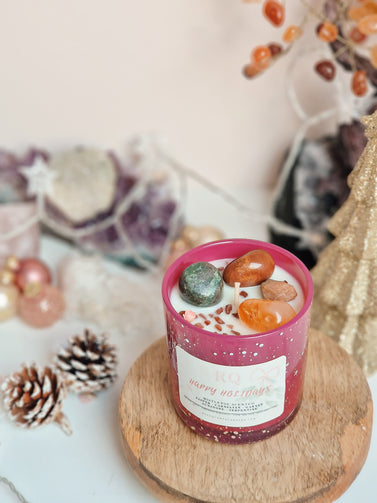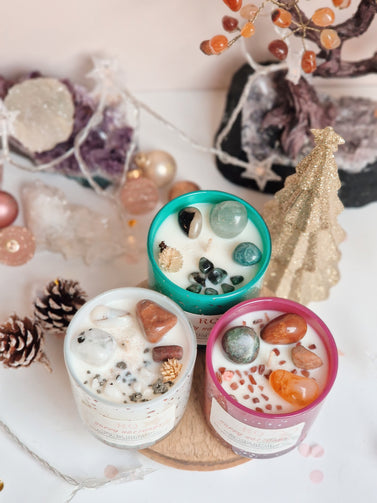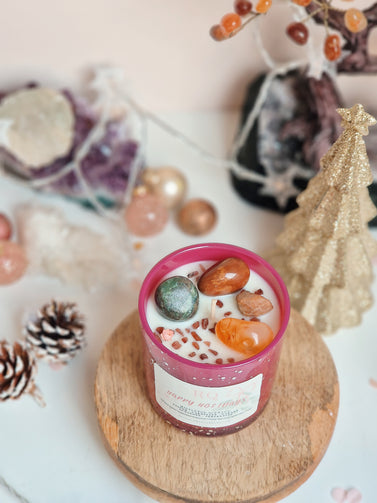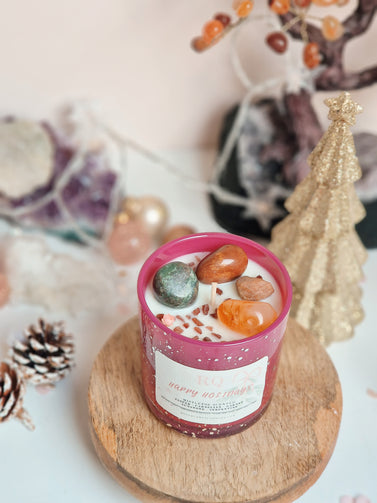 Happy Holidays Sparkle edition (red) - Mistletoe scented crystal candle
Happy Holidays Sparkle edition (red) - Mistletoe scented crystal candle
Regular price

Sale price

$40.00 USD
Tax included.
Shipping
calculated at checkout.
Introducing the "Happy Holiday" Red Sparkle Glass Container Candle – a winter delight that exudes the joy and enchantment of the holiday season. This radiant candle, encased in a stunning sparkly red glass container, is a luxurious addition to your winter decor.
Infused with the alluring scent of mistletoe, the "Happy Holiday" Crystal Candle sets the stage for festive celebrations and cozy winter evenings. Light it up to create a charming and inviting atmosphere that captures the essence of the holidays.
Topping this candle are five carefully selected crystals, each chosen for its unique energies and aesthetic allure:
Jasper: Known for its grounding and stabilizing properties, jasper establishes a sense of balance and harmony in your space.

Carnelian: A stone of vitality and motivation, carnelian infuses your surroundings with vibrant, uplifting energy.

Sunstone: Celebrated for its association with joy and abundance, sunstone invites warmth and positivity into your surroundings.

Serpentine: With its calming and healing qualities, serpentine offers a sense of tranquility and well-being.

Garnet: A stone of love and devotion, garnet inspires passion and deep connection.
The "Happy Holiday" Red Sparkle Crystal Candle is more than just a candle; it's a statement piece that adds a touch of elegance and holiday cheer to any setting. The radiant red glass container and exquisite crystal adornments make it a centerpiece that sparkles with festive enchantment.
Whether you're a crystal enthusiast, a candle connoisseur, or someone who revels in the holiday spirit, the "Happy Holiday" Red Sparkle Glass Container Candle promises an extraordinary sensory journey. Immerse yourself in the captivating scent, bask in the warm, inviting glow, and let the energies of these beautiful crystals envelop you in a cocoon of joy, serenity, and love.
Content:
300mL (about 55h burning time)
Couldn't load pickup availability