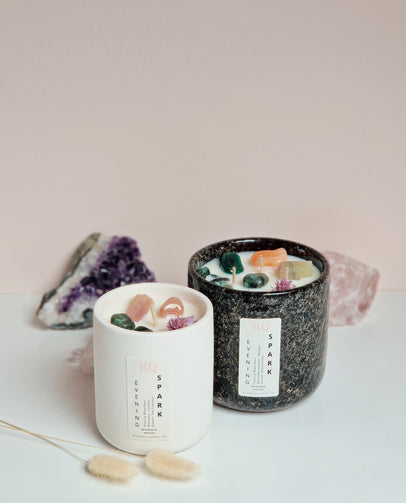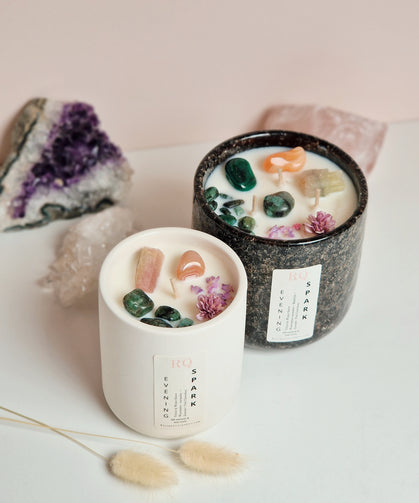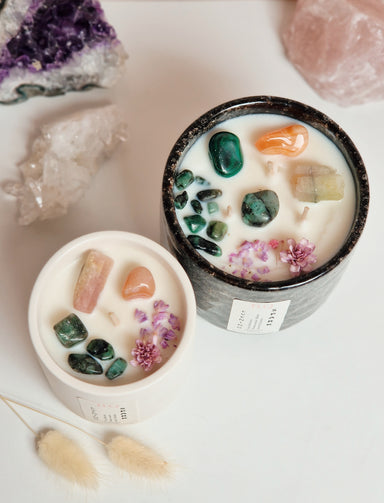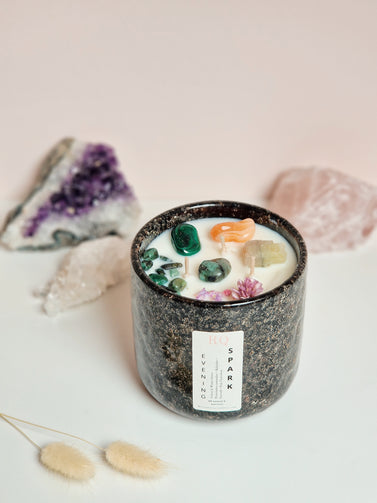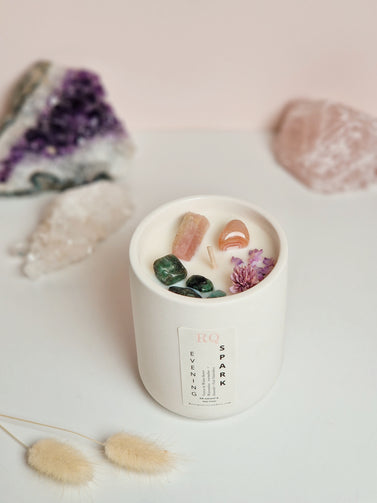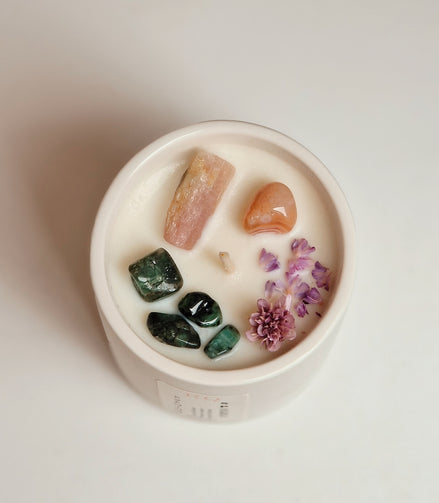 Evening Spark crystal candle - Medium and Large
Evening Spark crystal candle - Medium and Large
Regular price

Sale price

€44,00 EUR
Tax included.
Shipping
calculated at checkout.
Illuminate Your Evenings with our "Evening Spark" Crystal Candles
Invite a touch of mystique and elegance into your evenings with our exquisitely handcrafted "Evening Spark" Crystal Candle series. These candles are designed to light up your nights with a soft, mesmerizing glow, creating an ambiance of comfort and sophistication.
Artisanal Excellence
Each "Evening Spark" Crystal Candle exemplifies our unwavering commitment to superior craftsmanship. Hand-poured into a stylish ceramic container using eco-friendly, slow-burning soy wax, these candles ensure a clean and enduring burn, bringing an intimate, welcoming glow to your space.
Captivating Fragrance 
Our "Evening Spark" candles are infused with the enchanting "Vetiver & Winter Flower" fragrance. The earthy, woody scent of vetiver seamlessly blends with the sweet, romantic aroma of winter flowers, setting the stage for an enticing, relaxing evening.
Crystals of Nightfall
Our "Evening Spark" candles come adorned with a unique selection of crystals, each carrying individual properties:
- Watermelon Tourmaline: Associated with healing and balancing energies.
- Emerald: Known for its ability to encourage growth, reflection, peace, and balance.
- Pink Chalcedony: Celebrated for its properties of love, empathy, and nurturing.
Extra Malachite for the Large
Choose the Large "Evening Spark" Crystal Candle for the added energy of Malachite, renowned for its transformative and protective properties.
An Evening to Remember
Whether you're setting the mood for a tranquil evening or looking to add a touch of elegance to your space, our "Evening Spark" Crystal Candle is your perfect companion. 
Ready to transform your evenings? 
+- 300mL (55h) / +-350mL (65h)
Couldn't load pickup availability