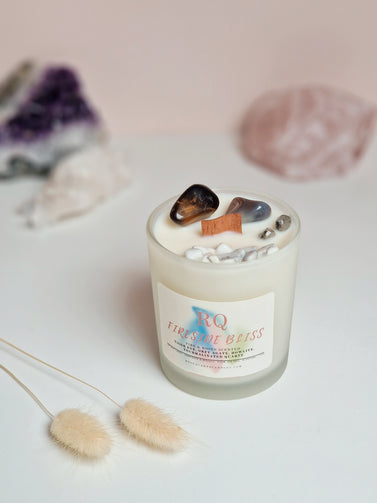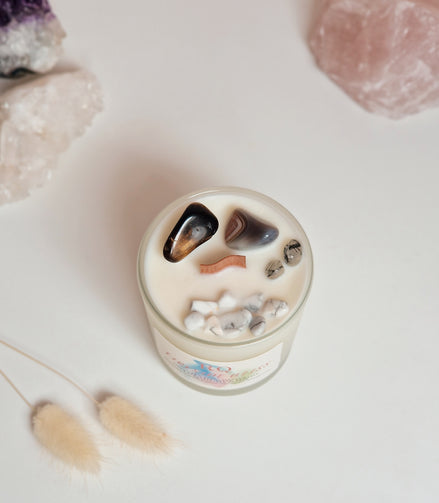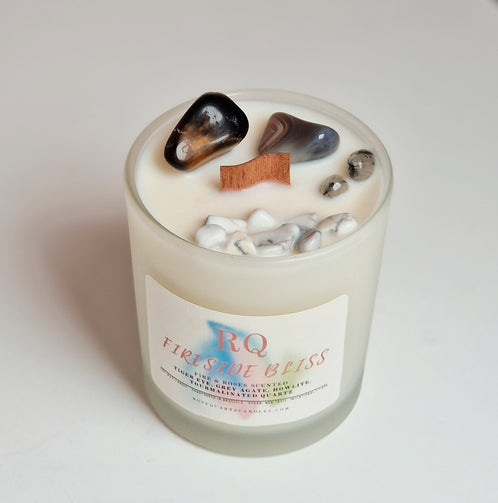 Fireside bliss Crystal Candle
Fireside bliss Crystal Candle
Regular price

Sale price

€26,00 EUR
Tax included.
Shipping
calculated at checkout.
Indulge in Cozy Comfort with our "Fireside Bliss" Crystal Candle
Crafted to evoke a sense of cozy comfort and serenity, this candle is a perfect companion for those seeking solace by the fireside.
Crafted with Care
The "Fireside Bliss" Crystal Candle is meticulously handcrafted to perfection. Made with slow-burning soy wax and infused with the comforting scent of "Fireside and Roses," these candles create an inviting atmosphere that envelops your space with a soothing glow.
Enchanting Aroma
Experience the nostalgic scent of crackling fire combined with the delicate fragrance of roses. The "Fireside and Roses" scent captures the essence of warmth and romance, transporting you to a fireside retreat where relaxation and bliss await.
Crystals of Tranquility
Adorned with carefully selected crystals, the "Fireside Bliss" candle embodies tranquility and balance:
- Gray Agate: Known for its harmonizing properties that promote peace and inner stability.
- Tiger Eye: Celebrated for its grounding energy and ability to bring clarity and focus.
- Howlite: Associated with calmness, patience, and stress relief.
- Tourmalinated Quartz: Renowned for its protective qualities and ability to dispel negative energies.
Embrace the Bliss
Whether you're seeking a moment of relaxation or creating a cozy ambiance for a special occasion, our "Fireside Bliss" Crystal Candle is the perfect choice.
Step into a world of soothing scents, gentle candlelight, and the positive energies of our thoughtfully selected crystals. Let the fireside bliss wash over you, bringing tranquility and comfort to your space.
250mL, +-40h
Couldn't load pickup availability