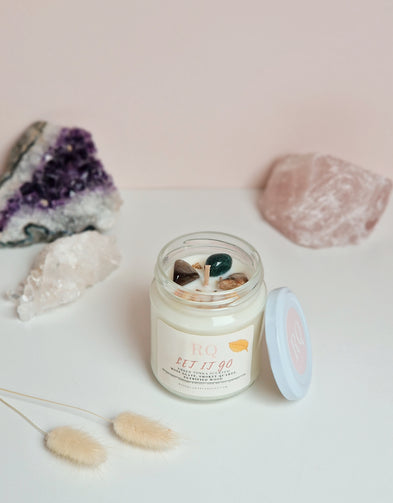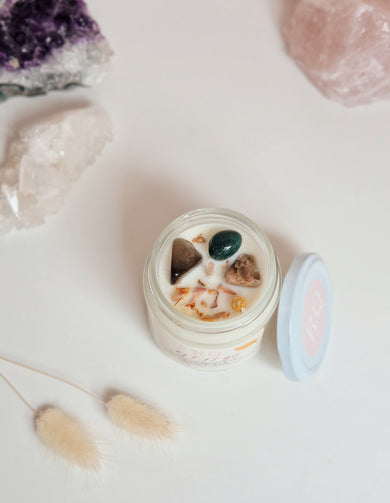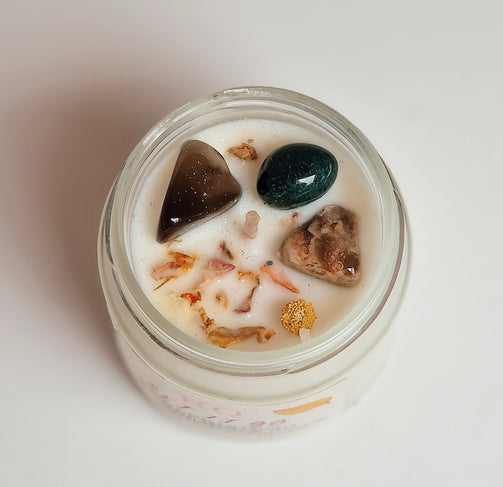 Let it go Crystal Candle - Medium
Let it go Crystal Candle - Medium
Regular price

Sale price

€22,00 EUR
Tax included.
Shipping
calculated at checkout.
Embrace Release and Renewal with our "Let It Go" Crystal Candle
Designed to create a serene atmosphere of release and tranquility, this candle transports you on a journey of self-discovery and inner peace.
Crafted with Intention
The "Let It Go" Crystal Candle is carefully handcrafted with a focus on intention and quality. Made from premium soy wax and delicately scented with the captivating fragrance of amber and tonka, this candle creates a soothing environment that encourages a sense of release and relaxation.
Enchanting Aroma
Immerse yourself in the warm, comforting scent of amber and tonka. This alluring fragrance combination brings a sense of grounding and invites you to let go of stress and tension, allowing for a freeing experience.
Crystals of Renewal
Adorned with a selection of crystals, the "Let It Go" candle represents the energy of release and renewal:
- Moss Agate: Known for its soothing and grounding properties, promoting emotional balance and growth.
- Smoky Quartz: Celebrated for its ability to absorb and transmute negative energy, fostering clarity and protection.
- Petrified Wood: Associated with grounding, stability, and connection to nature.
Embrace the Journey
Whether you're seeking to release emotional baggage or simply yearning for a moment of tranquility, our "Let It Go" Crystal Candle is your companion on the path to inner peace.
Immerse yourself in the captivating scent, the gentle glow, and the freeing energies of our carefully curated crystal candles.
180mL - +-35h
Couldn't load pickup availability