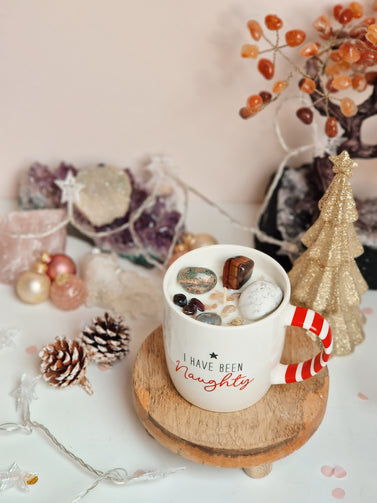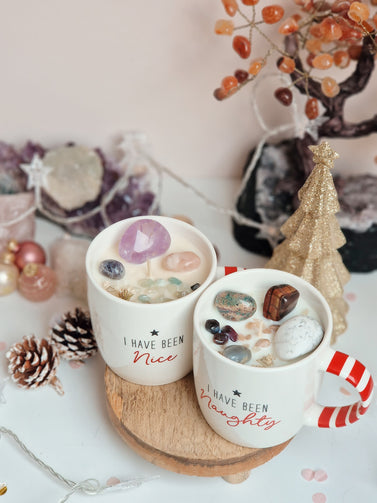 I've been Naughty seasonal special - Oud wood scented crystal candle
I've been Naughty seasonal special - Oud wood scented crystal candle
Regular price

Sale price

$44.00 USD
Tax included.
Shipping
calculated at checkout.
Introducing the "I've Been Naughty" Seasonal Mug Crystal Candle – a mischievous counterpart to "I've been nice", designed to add a touch of boldness and mystery to your winter decor. Scented with the alluring fragrance of oud wood, this candle, with approximately 350mL of aromatic indulgence and a burn time of around 60 hours, invites you to embrace the more daring side of the season.
Immerse yourself in the rich and captivating scent of oud wood, as the "I've Been Naughty" Mug Crystal Candle fills your space with an air of intrigue and sophistication. Light it up to create an atmosphere that embraces the allure of mystery and adds a dash of daring charm to your winter moments.
Topping this mug candle are five carefully chosen crystals, each selected for its unique energies and visual allure:
Bloodstone: Known for its protective properties, bloodstone infuses your surroundings with a bold and grounding energy.

Garnet: A stone of passion and courage, garnet adds a touch of fiery intensity to the overall ambiance.

Falcon Eye: With its protective and soothing qualities, falcon eye encourages self-discovery and resilience.

Howlite: A calming stone that promotes emotional well-being and tranquility.

Moonstone: Celebrated for its association with intuition and femininity, moonstone adds a touch of mystery and elegance.
As a playful counterpart to "I've Been Nice," explore the "I've Been Naughty" Seasonal Mug Crystal Candle, for those looking to add a hint of mystery and boldness to their winter festivities.
Whether you've been nice or a bit naughty, the "I've Been Naughty" Seasonal Mug Crystal Candle promises an extraordinary sensory journey. Immerse yourself in the captivating scent, savor the warm glow, and let the energies of these beautiful crystals envelop you in a cocoon of excitement, intrigue, and festive charm.
Content:
Approximately 350mL (60 hours burning time)
Couldn't load pickup availability