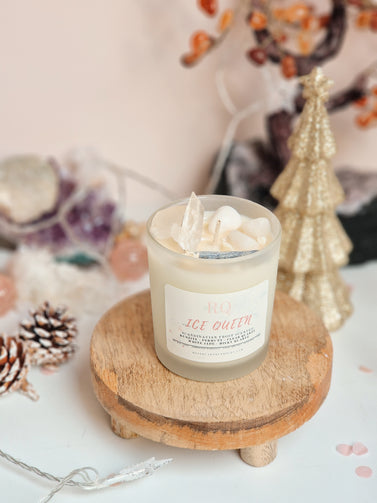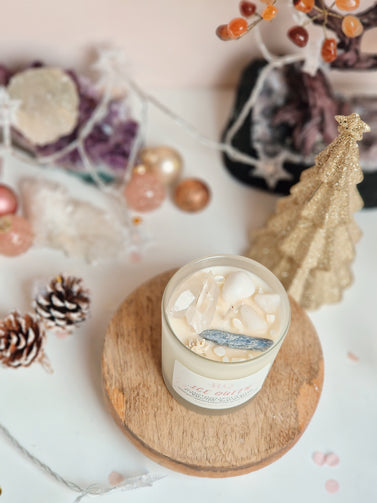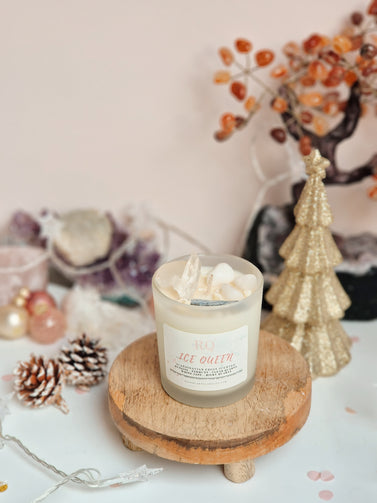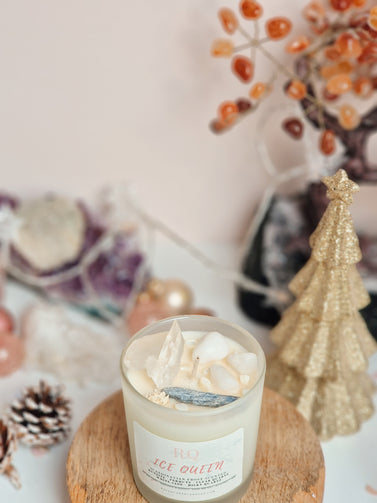 Ice Queen - Medium crystal candle - Winter exclusive
Ice Queen - Medium crystal candle - Winter exclusive
Regular price

Sale price

$33.00 USD
Tax included.
Shipping
calculated at checkout.
Introducing the Ice Queen Crystal Candle - where the frosty embrace of Scandinavian winters meets the artistry of handcrafted crystal candles. Immerse yourself in the ethereal world of winter wonder with a touch of mystique, as this candle captures the essence of the Ice Queen aesthetic, blending natural beauty with modern elegance.
Each Ice Queen Crystal Candle is meticulously handcrafted using sustainable soy wax, these candles burn slowly, ensuring a long-lasting, tranquil ambiance in your space.
Scented with our exclusive (and non toxic) "Scandinavian Frost" fragrance, this candle transports you to the heart of the Nordic wilderness. Breathe in the crisp, invigorating scent of a winter forest, setting the stage for relaxation and introspection.
Crystals:
Our Ice Queen candles are topped with genuine crystals, each with its own unique energy:
Quartz: Known as the master healer and amplifying properties.

White Jade: A stone of wisdom and harmony.

Milky Quartz: With its calming energy and mind-clearing abilities.

Permutt: Celebrated for its iridescent, pearlescent charm.

Kunzite: A crystal associated with unconditional love and divine connection.
Embrace the Enchantment!
Whether you're captivated by the allure of the Ice Queen aesthetic or simply appreciate finely crafted candles, this candle promises an enchanting experience like no other. Immerse yourself in the captivating scent, the soothing glow, and the empowering energies of our carefully selected crystals.
Specifications:
Size: 250mL
Burn Time: about 45 hours
Embrace the beauty of winter all year round.
Couldn't load pickup availability