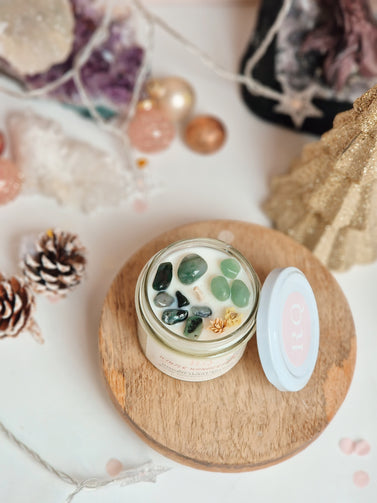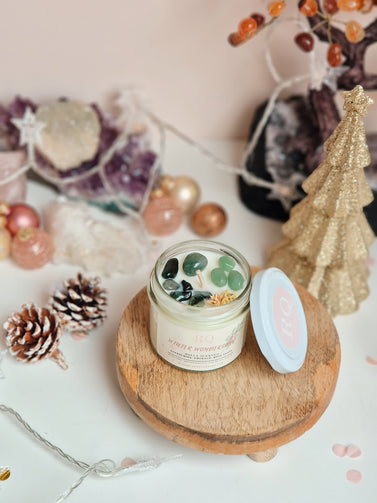 Holly tree scented Crystal candle - Winter exclusive
Holly tree scented Crystal candle - Winter exclusive
Regular price

Sale price

$20.00 USD
Tax included.
Shipping
calculated at checkout.
Introducing the "Holly Tree" Winter Exclusive Crystal Candle – a winter delight that captures the essence of the holiday season with the crisp and invigorating scent of holly tree. 
Scented with the brisk and refreshing fragrance of holly tree, this Crystal Candle brings the outdoors in, filling your surroundings with the invigorating spirit of winter. Light it up to create a revitalizing atmosphere that connects you with the beauty of nature and the tranquility of the season.
Topping this candle are three carefully selected crystals, each chosen for its unique energies and aesthetic allure:
Aventurine: Known for its abundance and prosperity-attracting qualities, aventurine infuses your surroundings with positive, uplifting energy.

Emerald: A symbol of love and rebirth, emerald radiates a calming and harmonious energy.

Moss Agate: Celebrated for its connection to nature and its grounding properties, moss agate establishes a sense of balance and tranquility.
The "Holly Tree" Winter Exclusive Crystal Candle adds a rustic and earthy element to your decor. Its compact size and exquisite crystal adornments make it a charming centerpiece that radiates both elegance and natural charm.
Whether you're a crystal enthusiast, a candle connoisseur, or someone who finds solace in the simple beauty of winter, the "Holly Tree" Crystal Candle promises an extraordinary sensory journey. Immerse yourself in the refreshing scent, bask in the warm and crackling ambiance of the wood wick, and let the energies of these beautiful crystals envelop you in a cocoon of tranquility, positivity, and harmony with nature.
Content:
100mL (about 20 hours burning time)
Couldn't load pickup availability