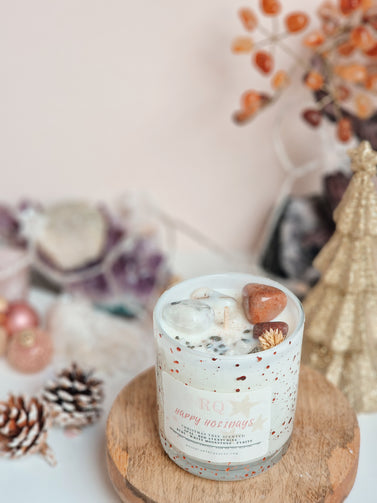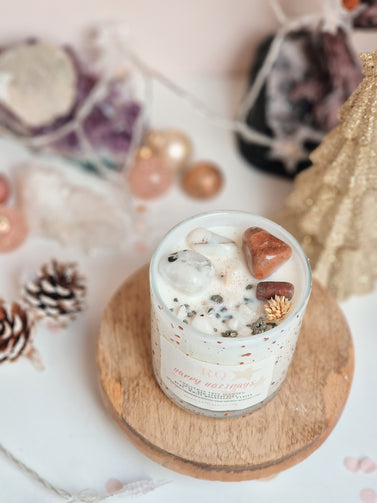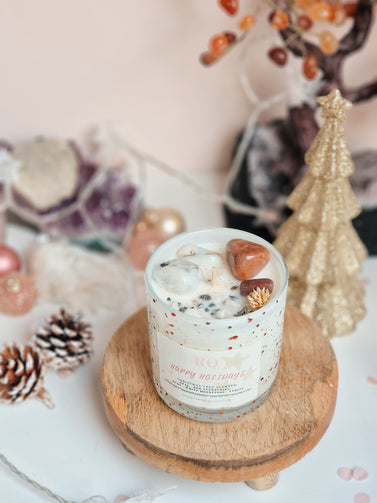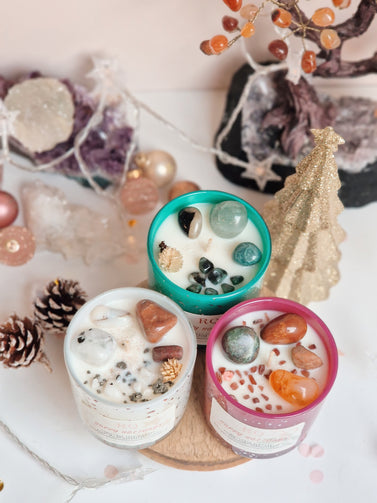 Happy Holidays Sparkle edition (white) - Xmas tree scented crystal candle
Happy Holidays Sparkle edition (white) - Xmas tree scented crystal candle
Regular price

Sale price

$40.00 USD
Tax included.
Shipping
calculated at checkout.
Unveiling the "Happy Holiday" Winter Special Medium Candle in its elegant sparkling white glass container – a winter masterpiece that radiates the enchantment of the holiday season. 
Immerse yourself in the heartwarming scent of Christmas Trees, as the "Happy Holiday" Medium Candle transports you to a festive wonderland. Light it up during gatherings, cozy evenings by the fire, or simply when you want to infuse your space with the spirit of the holidays.
Topping this candle are five carefully chosen crystals, each contributing its unique energies and aesthetic allure:
Opal: Known for its ability to enhance creativity and inspire fresh perspectives, opal adds a touch of magic to your space.

Red Aventurine: A stone of passion and vitality, red aventurine infuses your surroundings with a warm, invigorating energy.

Ruby: Celebrated for its association with love and protection, ruby brings forth the energy of passion and devotion.

White Moonstone: A stone of inner growth and new beginnings, white moonstone radiates a soothing and serene energy.

Pyrite: Revered for its protective properties and its capacity to attract prosperity and abundance, pyrite glistens brilliantly as a finishing touch.
The "Happy Holiday" Medium Candle in its sparkling white glass container is not just a candle; it's a centerpiece that adds a touch of elegance and holiday charm to any setting. The generous size and exquisite crystal embellishments make it a focal point that evokes wonder and celebration.
Whether you're a crystal enthusiast, a candle connoisseur, or someone who adores the magic of the holiday season, the "Happy Holiday" Medium Candle promises an extraordinary sensory journey. Immerse yourself in the festive scent, bask in the warm, glowing ambiance, and let the energies of these exquisite crystals envelop you in a cocoon of joy, inspiration, and prosperity.
Content:
300mL (about 55 hours burn time)
Couldn't load pickup availability