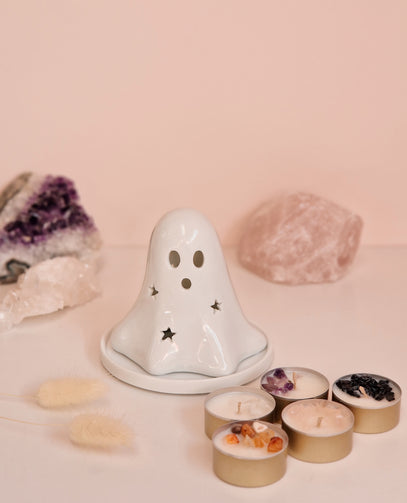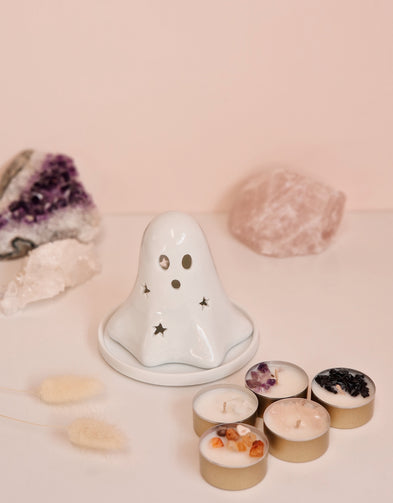 Halloween Special lantern - With crystal tealights - Ghost
Halloween Special lantern - With crystal tealights - Ghost
Regular price

Sale price

€29,00 EUR
Tax included.
Shipping
calculated at checkout.
Step into the heart of Halloween enchantment with our Ghost Ceramic Lantern. This exclusive lantern unveils a realm of autumnal magic, weaving a radiant spell that captures the very essence of the season.
Luminous Illumination:
Allow the Ghost Ceramic Lantern to grace your space with an entrancing luminosity with its five meticulously hand-poured tea light candles. Each candle has been thoughtfully selected, showcasing our five timeless and seasonal favorites among scents:
"Safe Space": A reassuring blend of delicate florals and powdered cotton. "Citrus Monoï": A sun-soaked yet tender fusion of citrus and tropical blooms. "Orange & Eucalyptus": Zesty orange entwined with invigorating eucalyptus. "Bourbon & Cigars": Rich bourbon notes embraced by the smoky presence of cigars. "Rosewood & Tonka": A harmonious symphony of woody rose and sweet tonka.
Elevated Enchantment:
Elevate the enchantment even further with carefully chosen crystals, each gracefully topping a tea light candle:
Rose Quartz: Symbolizing love and harmony. Amethyst: Radiating tranquility and spiritual growth. Tourmaline: Standing guard against negative energies. Carnelian: Igniting motivation and sparking creativity. Clear Quartz: Amplifying clarity and focused intention.
Limited Mystique:
This Halloween treasure is a limited-edition, destined to infuse your space with the captivating charm of the season. Seize the opportunity to embrace the enigma, casting an enchanting glow upon your autumn nights. Let the symphony of light, scent, and crystals embody the very spirit of fall.
Couldn't load pickup availability